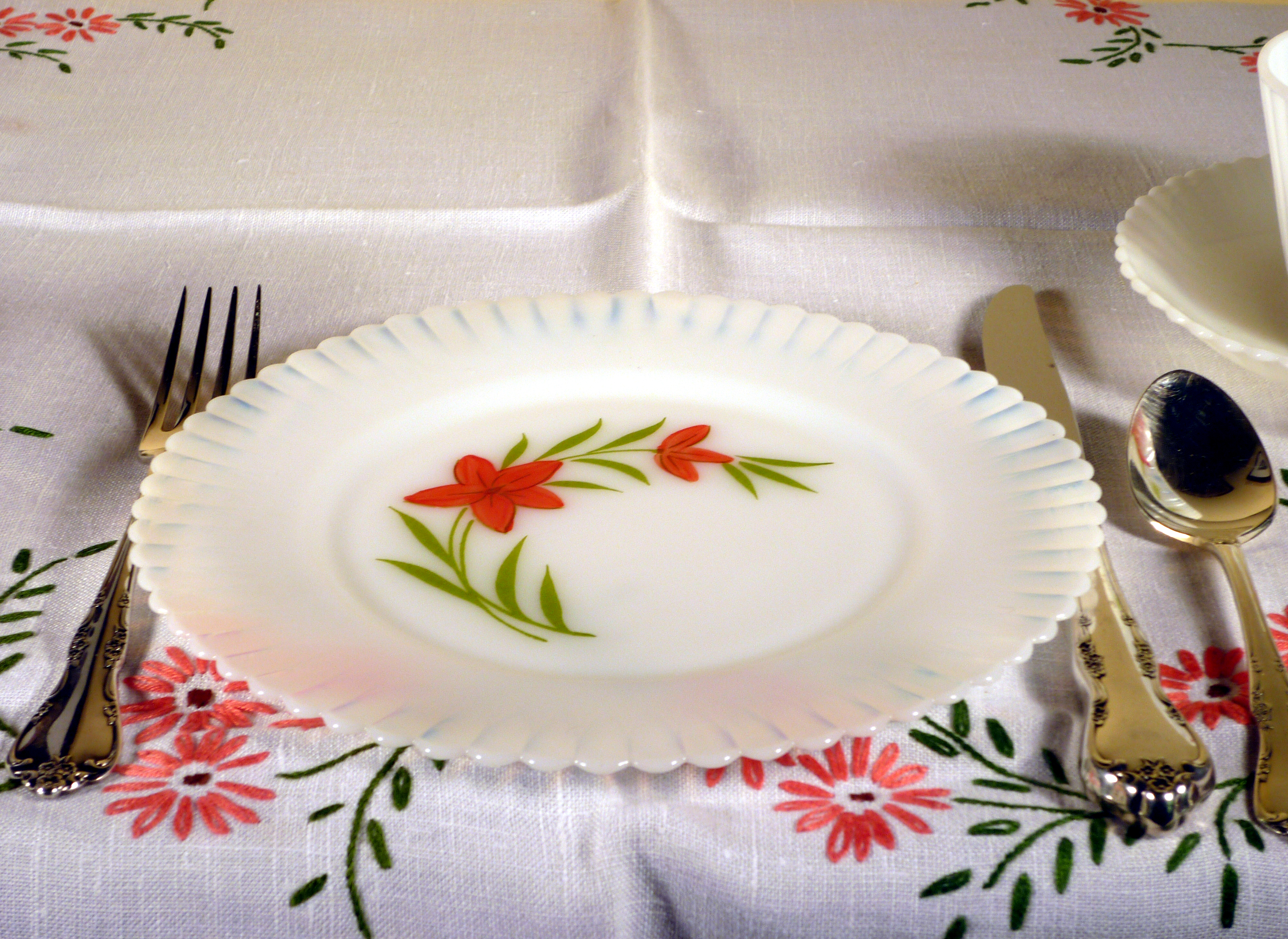 Petalware Monax Fleurette Depression Glass Plate
Welcome to Tablescape Thursday. Today we have flowers and more flowers with Petalware Fleurette lunch setting on my mom's flowery tablecloth.
Petalware is depression glass.  MacBeth Evans made it in a light pink, clear and this beautiful opalescent looking monax white glass.  The white plates must have been irresistible to both decorating companies and talented customers because decorated plates abound.  This particular design, with stylized coral red flowers, is called Fleurette and it's my favorite.  I thought it looked great on the tablecloth my mom hand-embroidered with pink flowers.
Here is a picture of our table set for two.  I have quite a few pieces of undecorated monax Petalware that look good with the Fleurette pieces but decided to show only the summery flowers.  You can see the pink and white glass in these previous posts:  Petalware Posts
Here's a close up of the cup so you can see the simple pattern of the glass.
Last picture is this single place setting.  Wouldn't this be fun for lunch with your friend?  You could go antiquing first, then come home and enjoy a relaxing salad and a cup of tea together.
Thank you for visiting! Be sure to subscribe to our blog by email or RSS and check our Facebook page at www.DepressionGlassFun.com and post your favorite glass pieces.
Thank you to Susan from Between Naps on the Porch and friends for this fun Tablescape Thursday.
Shopping information:  We carry Petalware in both of our stores, Vintage Elegant Depression Glass on eBay and Cat Lady Kate's Elegant and Depression Glass.