Way back in 2000 I saw an ad in the paper for depression glass.  Wow.  Judy had a whole bunch of depression glass including
yellow Florentine #2 tumblers
like these: That small purchase started me on Florentine Poppy. I really like this design. It has big puffy poppy flowers all intertwined. On the tumblers you can see the top poppy and the two on the side. Plus, did you notice the design on the foot? Hazel Atlas knew they had a winner with Florentine - poppies were popular design motifs after World War 1 - and used the design on two shapes. The tumbler above has a smooth, round foot. It is Florentine #2. This next tumbler has a scalloped foot and you can see the shape is different, a little taller and narrower.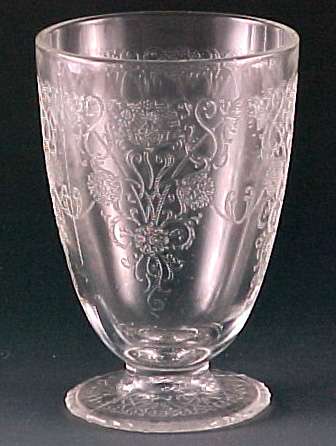 Can you see the design is the same? Both tumblers have the same poppies on the sides and around the feet. The difference is the shape.
Florentine #1 tumblers are taller, more narrow with smoother shapes.

Florentine #2 tumblers are shorter and a little wider than their #1 cousins.
Florentine #1 tumblers have scalloped feet.  These tend to get nicked, so always check carefully.
Florentine #2 tumblers have round, smooth edged feet.
The sherbets and pitchers have similar differences:  scalloped vs. round and smooth. I'll show the plates and cups in future posts.