Today I learned two new things.  Jim B called to ask whether we had any Cameo depression glass lunch plates with a different medallion size than the one I sent him.  His wife inherited partial sets from her mother and her aunt and is short only a few pieces.  She needs the pitcher, another footed ice tea and a lunch plate. Can you imagine what her table must look like when she sets it out?  Wow!  This is one of my table settings right after we bought a large set with some unusual pieces.  At one time this set filled 5 large boxes but we're down to 2 boxes of it now.  Cameo is popular!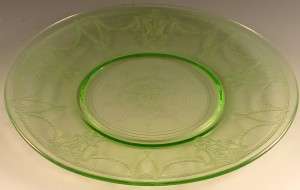 The center motif is quite intricate. It's a round frilly center with a 10-pointed angular wheel. There are more frilly plumes at the tips of the points. On Jim's plates the frilly points go all the way to the inside edge of the rim, and there is a second 6-sided swag. The dinner plate shows this well. I had not realized that there are multiple styles of round lunch plates. Round dinners, yes, I knew that. But this was something new today, to watch out for the center motifs in Cameo lunch plates. That was the first thing I learned, to be aware of Cameo differences. The second? I had a delightful time talking glass plates with Jim. And I found the plate he needs on Replacements. If you are looking for Cameo depression glass plates, you have a lot to choose from. Be sure to check photos carefully, especially if you want to match pieces you already have. Apparently there is even more choice out there than I for one knew!

Jim's problem is that his wife has 7 lunch plates with large medallions that fill the full center. The look like these dinner plates. The plate I sent him, in fact the only type of round one I have seen looked like this. See how the center medallion only goes out partway in the center?