Imperial made several dozen (!) candle holders in their flagship pattern Candlewick, everything from single light plain holders to holders with eagles, hurricane lamps, combination candle holders with bowls or flower holders, multiple light holders.  I've had two candle holders over the years that are good examples of what you might find. This first one is a basic, one light holder with a rolled edge on the base.  Lots of companies made candle sticks in this basic shape, one candle cup on a stem with a round base.  Imperial Candlewick's is a little different with the rolled rim and the rounded ball-like cup and it's very pretty holding a candle; the glass balls sparkle in the candle flame.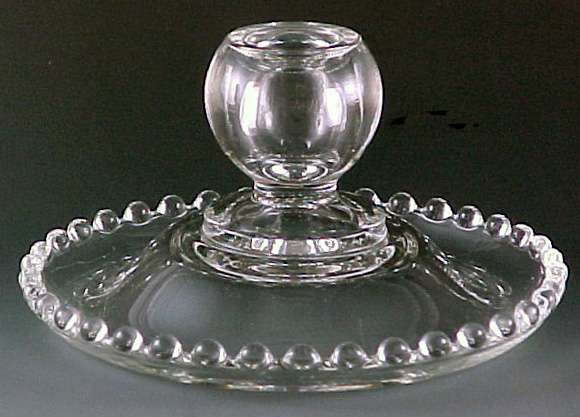 This next one I got very early in my glass buying days; it was at an auction.  My notes say I paid $5 apiece. Imperial made a very similar holder with a beaded circle that has only two candle cups, missing the one on top.  All my books show the two-light version but the three-light shape may have been slightly less common as it wasn't shown in some pattern listings.  This is not a surprise considering the enormous number of Candlewick pieces! Only specialist guides that focus on Candlewick will show all the pieces. I couldn't resist showing you one of the eagle pieces, linking it in from
Replacements
.  The eagle shape is separate and has a glass plug that lets you fit it into the candle holder.  Thus the candle holder becomes and eagle figurine.  I wonder whether it was made for the bicentennial? I've never seen one of these holders with the eagle, have you?