Green Glass on Parade: Vintage, Elegant and Depression
Have you noticed that almost every year some shade of green is in style? Back a few years it was blue-green, then yellow-green. Last week our Sunday paper proclaimed emerald is the color for 2013.
Glass makers of course kept up with trends. Let's see the wonderful shades of green that have come, gone and come back.
Late 1920s and 1930s: Crayon green, pistachio green and jadeite translucent green. Colored glass was in and glass companies experimented with tones.
1940s to late 1960s: Forest green, green with a blue tone
1960s to 1980s: Olive green, avocado green. Darker greens with yellow or yellow-brown tone
Depression Glass Green
When you think depression glass, think crayon green. Most of the green glass from Federal Glass is like this Georgian Lovebirds lunch plate, true green. It's not yellowish or bluish, just green

Georgian Lovebirds Green Lunch Plate
Federal Glass used green for most of their patterns, including Patrician, Madrid, Sharon. All are about the same green.
Hazel Atlas made green patterns too, especially Cloverleaf, Royal Lace and Florentine Poppy. This Florentine Poppy #2 cup is a true green, much the same shade as Federal's green.

Hazel Atlas Florentine #2 Poppy Green Cup
Royal Lace, also by Hazel Atlas, came in a rainbow – pink, blue, green, clear – and its green is just a touch lighter.

Royal Lace Green Depression Glass Cup
Hocking Glass was the hands-down champion green glass maker in the depression. Almost every pattern had at least a piece or two in green. To my eyes their green color is a little different between the earlier Block Optic pattern and later Mayfair. Take a look at the pictures and see if you notice a difference.
This is the cone shaped sugar in Block Optic, one of my favorite shapes. That footed cone shape is pure depression era!

Block Optic Green Depression Glass Cone Sugar Bowl
Now compare that to this Mayfair center handled server. The Mayfair, made 1931 to 1937, looks a little lighter.

Mayfair Open Rose Green Center Handled Server
Cameo is closer to the Block Optic color.

Cameo Green Depression Glass Scroll Handle Cup
The last depression glass green I want to show you is Lorain, by Indiana. It's definitely a lighter shade with a bit of yellow.

Lorain Green Depression Glass Cup
Even though we saw some color variations, remember that green from the 1930s was mostly a true green. Later patterns might be a little more yellowish, but you won't find olive or avocado green. Those colors came much later.
Depression Era Green Glass from Cambridge
Cambridge made a huge array of colors, including at least five shades of transparent green. They made so many colors that the National Cambridge Collectors published a book "Colors in Cambridge Glass"!
This oval center handled server is true green; I am guessing it is Emerald as that fits the production time line for the etch.

Cambridge Oval Green Center Handled Server
Now, compare that green to the lighter pistachio shade. This is the Appleblossom creamer.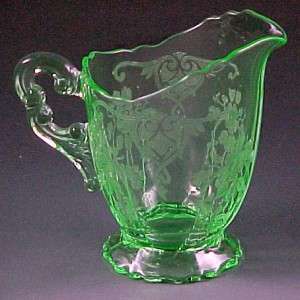 Appleblossom Green Creamer
I hope you can tell the color even though the picture isn't so great. I sold this so cannot take a new photo.
Depression Era from Fostoria
Fostoria's depression era green was a true green, to my eyes a hair towards the yellow spectrum. Here is the Versailles footed candle holder.

Fostoria Versailles Green Candle Holder
Depression Era from Paden City and Tiffin
Paden City green in this center handled server is nearly the same shade as Cambridge Pistachio.

Paden City Art Deco Green Center Handled Server
Tiffin had fun with colors. (Remember they were a division of US Glass for many years.) This satin glass candlestick is a true green, rich and it looks and feels wonderful.

Tiffin Satin Glass Green Spiral Candlestick
Post Depression Era – Hocking Forest Green
Hocking Glass was merged to form Anchor Hocking near the end of the depression. They kept innovating and developing new glass styles and colors to fit the trends. They came out with two stunning colors, Royal Ruby and Forest Green.
They used Forest Green for many patterns and pieces, but the era of full glass dinnerware sets was waning. You'll find tons of accessory pieces, beverage sets and vases. Anchor Hocking issued only a few dinnerware patterns in Forest Green, notably Charm which has square plates.
Here is a pair of Forest Green vases. Notice how dark and rich the green is.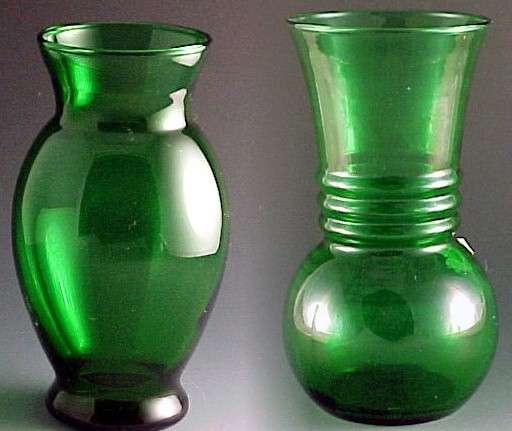 Anchor Hocking Forest Green Vases
The Era of Olive and Avocado Green
Anyone who lived through the 1960s and 70s remembers the avocado craze. Kitchens were avocado; appliances were avocado; walls were willow which was interpreted as a pale avocado and walls and carpets were avocado too.
Glassware of the day was distinctly olive, shading into avocado. I don't have any to show you in stock, but did see a Soreno snack set yesterday at an antique store. This gives you a good idea of the glass green at the very beginning of avocado's reign.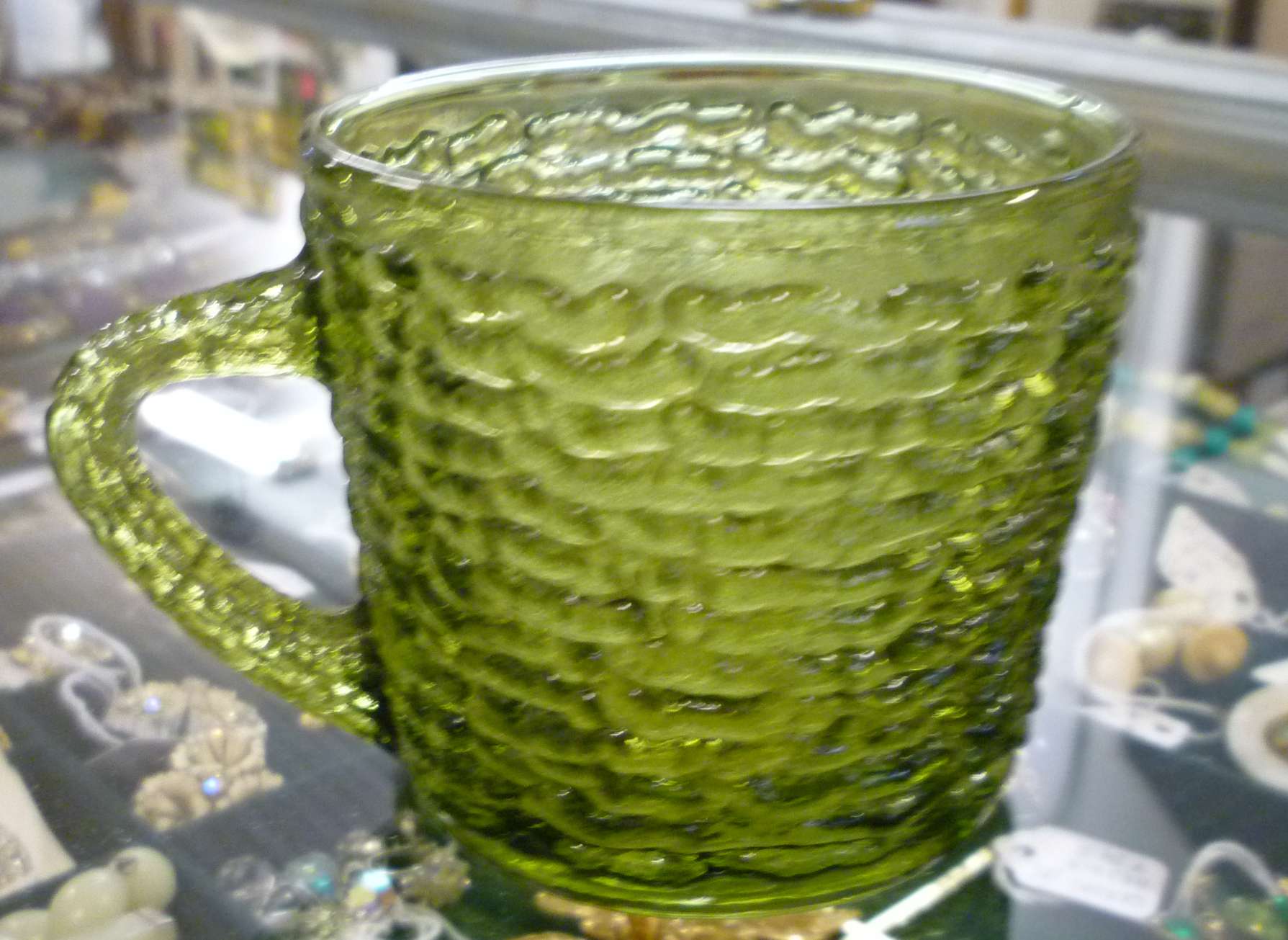 Soreno Green Snack Set Cup at Antique Mall
I hope you enjoyed seeing the parade of green glass here. It is just in time for St Patrick's Day and the beginning of spring. Enjoy the green in nature and in glass!