Featured Pattern: Georgian Depression Glass from Federal
It seems like almost every glass company made a pattern they named "Georgian". The one we're looking at came from Federal Glass and is true depression glass with a mold etched design of birds and baskets.
Federal's Georgian is one of my favorite depression patterns, can you see why?

Georgian Lovebirds Green Depression Glass Sherbet
Federal made Georgian Lovebirds from 1931 to 1936 in green. According to my book they also made the hot plate in clear and the small 6 inch sherbet plate in amber. I've never seen pieces in any color except green. (I like green so that's fine!)
Georgian Lovebirds Green 4 1/2″ Fruit Bowl
Georgian is moderately expensive and basic pieces are reasonably available. Dinner plates, serving pieces and tumblers are rather scarce and the most expensive. Expect to pay about $50 for a dinner plate in perfect condition. Lunch plates are more affordable.
Georgian Green Depression Glass Lunch Plate
Not all the pieces have lovebirds. The tumblers have the basket design only.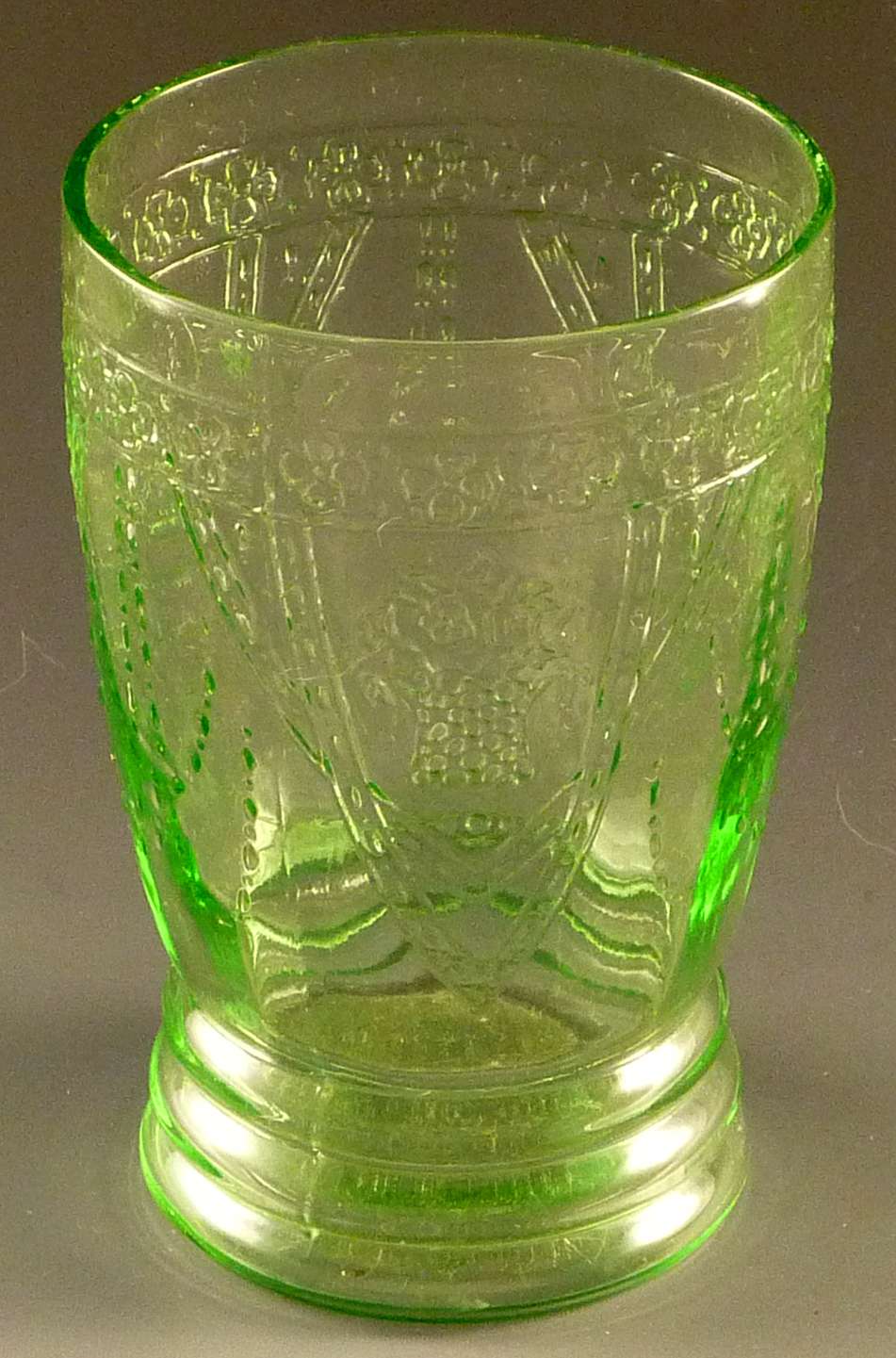 Some dinner plates have neither the birds nor the baskets around the rim. Yes, they are authentic Georgian, just a variation that Federal made.
Georgian Lovebirds Green Sherbet Plate
There is one topic we always need to consider with depression glass and that is reproductions. First, there are no reproductions of the green Georgian.
Remember that the people who made reproductions in order to scam folks used only the most popular patterns. Georgian is simply not as popular and so not profitable to make mass repros of, unlike Cherry Blossom that at one time had thousands of eager collectors.
Some people claim that any Georgian that is not marked is fake. This is simply not true. Federal marked some pieces but not all. You can find cups, saucers and sherbets with and without the F mark. I note whether a pieces is marked in my listings.
This saucer is not marked.
Georgian Lovebirds Green Depression Saucer Not Marked