Fostoria Glass Contour elegant pattern
comes by its great mid-century modern looks honestly, as it was produced from 1955 to 1971.   The wavy stem is unique and distinctive. All the Contour shapes are interesting, with extra waves or curls.  It helps show off the gorgeous crystal glass.  This particular piece has the Fostoria name etched on the bottom of the foot.  (Most Fostoria was not marked.) Take a look at the neat torte plate here too.  It has a turned up rim, but is flat enough to put a cake on. If you like mid-century modern, check out Fostoria Contour!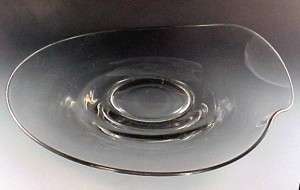 Isn't this a neat design?