Welcome to this week's Fancy Fun Friday blog party. You've seen all sorts of different glass pretties, from a depression glass measuring cup to a gorgeous console bowl. Today we're fancying our lunch table for summer BLTs.  Don't put that icky jar of mayo on the table. Leave it in the kitchen and serve your salad dressing in a little set like this.  Your bacon, lettuce and tomato sandwiches just went up a notch on Fancy.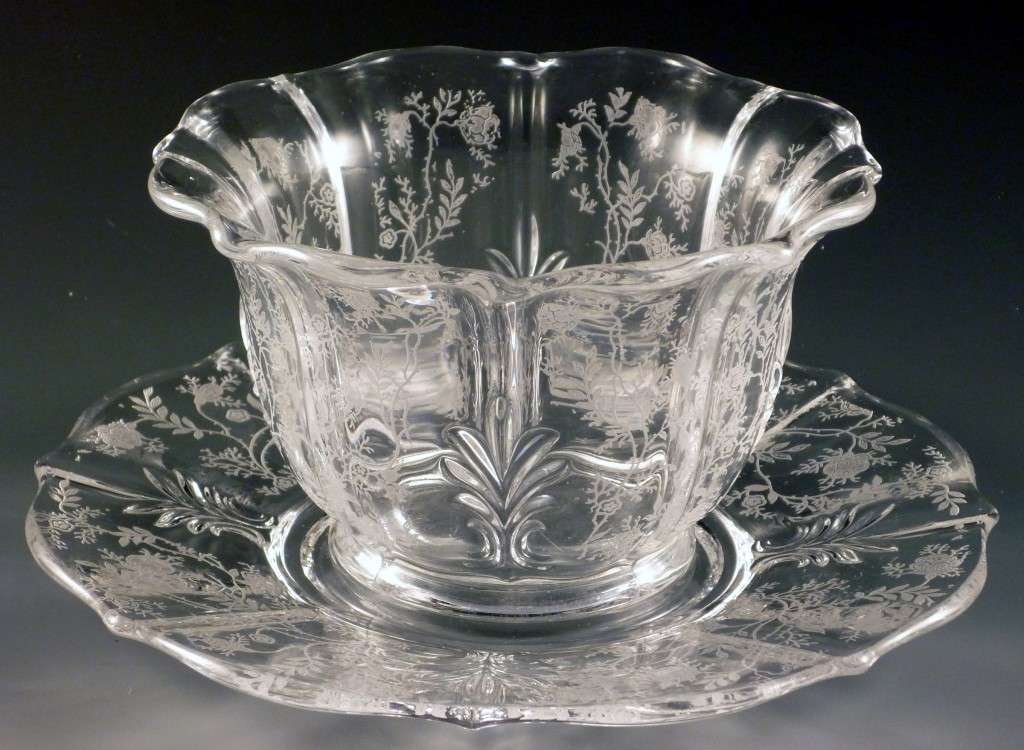 Fostoria Glass Chintz Etched Crystal Mayo Set
Shopping Information:  You can add Fancy to your BLTs with this
Fostoria Chintz mayonnaise set
. Mayonnaise sets were essential to a well run home in the 1930s and glass companies continued to sell them even into the 1950s. I've often wondered how much mayonnaise families ate back then. True they had more kids and sometimes grandparents than our small families today but still. Dave and I go through maybe one small jar of mayonnaise type dressing a year - and a set like this would easily hold most of a jar. Families used these for more than just mayo. Mustard, chutney, relish, even cranberry sauce would be pretty. This mayo set is Fostoria Chintz etched crystal. There are two pieces, the small bowl and a liner plate. Fostoria made a ladle too, it was not etched. This would be a fancy piece in my home. What about yours? Come join us each Thursday evening for the Fancy Friday blog party. All you need to do is write blog about something special, something a little bit fancy. Then get your permalink and come post it with the InLinkz button. Everyone is welcome. Please put a link in your post to this blog,
www.DepressionElegantGlass.com
so everyone can find new fancy fun every Friday.