If you got our newsletter Sunday it covered a little about nappies and today's blog we'll go a bit more.  This green kitchen bowl from Hazel Atlas was listed as a nappy back in the day.  It's the Fancy pattern and is 8 inches across, the size some patterns called a master berry bowl.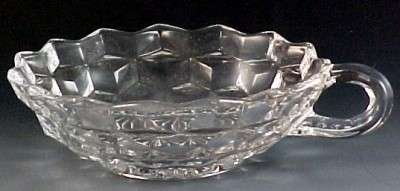 Fostoria American Flared Handled Nappy When I bought this Fostoria Chintz one Dave thought it was a soup mug.  You could use it like that!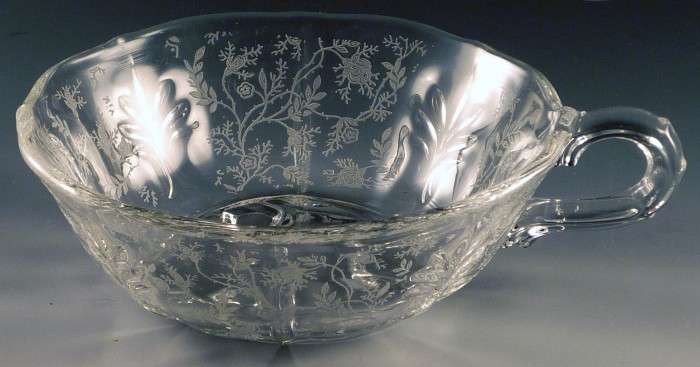 Fostoria Chintz Nappy
There are not as many depression glass pieces called nappies in the current reference books.  You'll see olive dishes, which are usually oval and have two handles, or bon bons, but only a few are called nappies.  This Windsor clear one from Jeannette is listed as a nappy. Here's an Imperial Glass ruby red one, so pretty and without a handle.  You'll see this pattern called Katy when it is opalescent green or blue glass.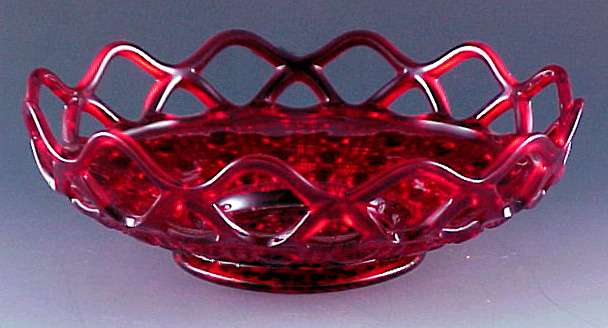 Imperial Laced Edge Ruby Nappy You have probably seen this last depression glass nappy at antique malls or on online sites.  Hazel Atlas made this same design in two or three different shapes including this one with a handle, a nappy. The next time you are looking for a small fancy dish look for a nappy.  There are so many wonderful colors you'll surely find just the right one.

Originally a "nappy" just meant a bowl.  You'll see shallow serving bowls called nappies in older glass listings and catalog reprints.  This Imperial Candlewick bowl was called a nappy.  It's certainly more elegant than a kitchen mixing bowl! Over time glass companies called their little bowls meant for nuts or candy nappies.  I haven't seen this term used much with depression glass, but it is common with elegant glass, like this one handle little nappy from Duncan Miller.  We'd consider this a vintage candy dish and fill it with conversation hearts for Valentines or foil-wrapped chocolates for Christmas and Easter. Here's another one from Duncan Miller, their lovely crystal Canterbury pattern.  This has one handle too. Many have handles and are interesting shapes, like this Fostoria Baroque tricorn nappy.  Several Fostoria nappies have three little nub feet and one handle. Fostoria made their famous American pattern for so many years that they have many different nappies.  You can find square, round, flared and triangular shapes, in two or three different sizes.  This one is round and flared.