Cambridge Glass Photo Pattern Identification Guide
Cambridge Glass made so many patterns and shapes. This photo guide shows several patterns in close ups. Use this guide to identify glass and to pick out the pattern you want to enjoy.
---
Apple Blossom Etch
Cambridge Glass made Apple Blossom during the depression on all their colors of the era, including amber, pink, two shades of blue, emerald and a darker green, yellow, ebony and crystal. The sugar shown is the lovely green color Emerald in line 3400 shape. Line 3400 is refined with soft scallops on the rim, curlicue handle and molded foot. Apple Blossom is choice especially in colors like the green shown. I sometimes confuse Heisey Old Colony with Apple Blossom if the only part of the pattern visible is the formal motif between the exuberant blossoms. The two patterns really are not at all alike. Old Colony has a flower in the motif and Appleblossom does not. Of course the shapes and the lovely flowers on Appleblossom are completely different.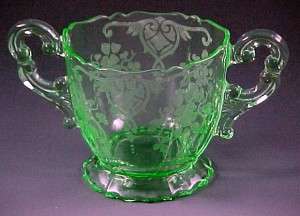 Apple Blossom Emerald Sugar Line 3400
---
Blossom Time Etch
Cambridge Glass made
Blossom Time
from 1939 to 1946 almost entirely on crystal. The creamer shown is the Martha shape with the big scallops on the rim, curlicue handle and molded foot. You can't see the design on the foot in this photo; it is a center circle with small molded rays around it. Blossom Time is elegant and somewhat unusual.
Cambridge Glass Blossom Time on Martha Blank
---
Cambridge Caprice Crystal
Cambridge made Caprice near the end of the company's life, from 1936 to 1958. It's a little heavier looking than most Cambridge glass and is solely a molded pattern. After market decorating companies like Silver City used Caprice for silver decorations, but Cambridge mostly left Caprice plain.
---
Cambridge Caprice Crystal Stemware
Cambridge Caprice stemware has a lovely optic in the bowl.
Cambridge Caprice Crystal Champagne Sherbet
---
Chantilly Etch
Cambridge Glass used their graceful Chantilly etch from 1938 to 1958 mostly on crystal with a few pieces in ebony black or colors. The candlestick is on the Martha blank and has the etch on the round base. Chantilly is similar to Cambridge Elaine but you can tell the difference - and I hope this guide helps you. Chantilly has scrolls that are horizontal on stemware and go around the rim on plates or bowls.  Elaine has diagonal scrolls. Cambridge put Chantilly on several other blanks, including the 3400 shape and this 3600 Martha.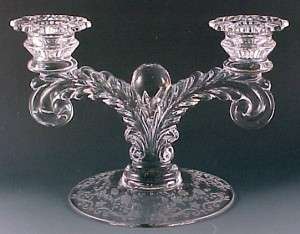 Cambridge Chantilly Etched Martha Candle Holder
---
Chantilly Etch
This is also Cambridge Chantilly but on the lightly scalloped 3900 shape.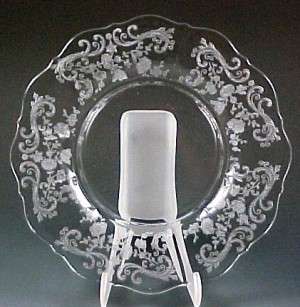 Cambridge Glass Chantilly Etched Line 3900 Crystal Plate
---
Cleo Etch
Cambridge Glass made
Cleo etch
in the early 1930s on the usual colors, blue, green, amber, pink, crystal. This oval vegetable bowl is one of the choicest pieces. Like most Cleo items it is on Cambridge Decagon blank. Cleo is a wonderful pattern to collect with the graceful swags on so many different pieces.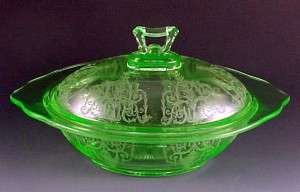 Cambridge Glass Cleo Green Oval Vegetable Bowl with Lid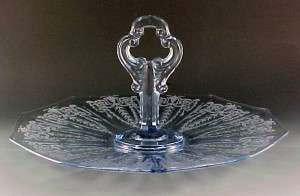 Cambridge Glass Cleo Etched Decagon Willow Blue Center Handled Server
---
Cambridge Crystal 1307 Triple Candle Holder
Cambridge made a gorgeous array of candle holders including this triple light crystal candlestick.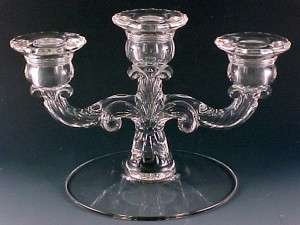 Cambridge Crystal 1307 Triple Candle Holder
---
Cambridge Decagon
Cambridge sold Decagon plain and with several etched patterns. Most Decagon has 10 sides. Cambridge made Decagon in all their depression era colors - pink, blue, amber, green, Carmen, amethyst - in the 1930s.
Cambridge Decagon Blue Creamer
---
Cambridge Glass Deux Coqs Line 733
Cambridge Deux Coqs has a design of two birds. It's one of their lesser known patterns and is etch number 733. It is a lovely pattern.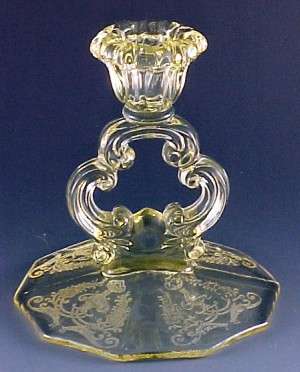 Cambridge Glass Deux Coqs Candle Holder
---
Cambridge Diane Etch
Cambridge Diane
looks like two hands gently cupping a flower. There is a pair of scrolls at the top of the motif that will help you distinguish Cambridge Diane from New Martinsville Prelude which have similar motifs. Cambidge made for over 20 years, from 1934 to 1956, mostly in crystal (especially after the 1930s) and some pink, yellow, blue and other depression era colors. The candle holder shown is unusual and hard to find, the Corinth shape with a pierced center.
Cambridge Diane Etched Corinth Trindle Candle Holder
Cambridge Diane Etched Crystal 3122 Low Sherbet
---
Cambridge Elaine Etch
Cambridge Glass made 
Elaine
from 1933 to 1954, another long running, popular pattern. Cambridge used only crystal for Elaine, unlike other patterns in the same era. You can tell Elaine from Chantilly because Elaine's big scrolls go diagonally while Chantilly has smaller scrolls that are horizontal. That big bowl is a neat piece, low and ruffled, perfect for display or with fruit.
Cambridge Elaine Etched Crystal Low Ruffled Bowl
---
Cambridge Etch Number 701
Cambridge Glass
made many intriguing etched designs that never got names and we know only by their line number.
Etch 701 urn with flowers design
is particularly appealing in crystal stemware.
---
Cambridge Glass Etch 727
Cambridge etch 727 is one of my favorites. I love the round puffy flowers and the elegant scrolls. Sadly, Cambridge didn't name this etch - in my mind I think of it as the cotton ball etch.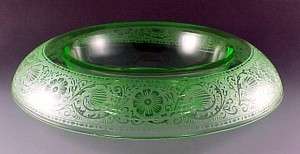 Cambridge Glass Etch 727 Green Console Bowl
---
Cambridge Glass Majestic Etch 732
Cambridge Majestic etch number 732 has scrolls flanking big oval flowers. Cambridge made this during the 1930s in all the rainbow of colors.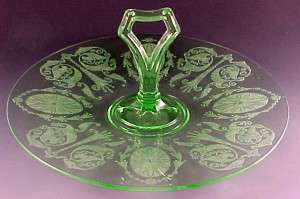 Cambridge Glass Etch 732 Green Center Handled Server
---
Cambridge Glass Florentine Etch 725
Cambridge Florentine etch number 725 is one of the band etches where the design is placed inside a band and not all over the piece. Florentine is another depression era pattern.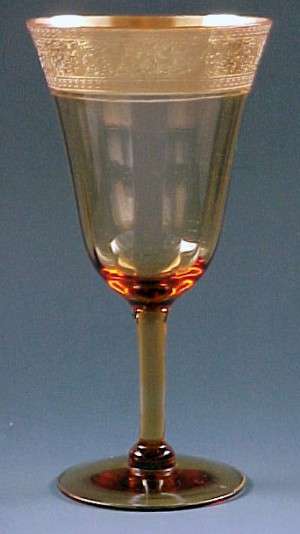 Florentine Amber Gold Encrusted Goblet
---
Cambridge Georgian
Almost every glass company made a Georgian pattern. Some pieces are different in each maker's line but the water tumblers are all similar Cambridge Georgian should have a ground base rim. Look closely at the honeycomb design. According to the Cambridge collectors, the honeycombs in the second row are diamond shaped, not hexagonal.
Cambridge Georgian Pink Tumbler
---
Cambridge Grape Etch
Just like the Georgian pattern, almost every elegant glass company had a grape etch. Cambridge used their Grape etch on at least three blanks.
---
Portia Etch
Cambridge Glass made
Portia
about the same time period as Rose Point, 1932 to the 1950s, and mostly on crystal. You'll find Portia on on several blanks. The sherbet shown is the 3121 line, the easiest to find, which has a ball held by three little curled nubs on the stem. Portia has a flat topped urn overflowing with flowers. It is quite distinctive and you won't have any problem spotting it.
Cambridge Glass Portia on Line 3121 Vintage Stemware
---
Rosalie Etch
Cambridge Glass made
Rosalie
in the 1930s on colored and crystal glass. It's not all that easy to find and the plain stem shown is unusual. Most Rosalie dinnerware and accessory pieces are on the Decagon blank.
Rosalie
has a square spiral in the design that is unlike any other etch. It is a busy pattern and looks great on simple pieces like the goblet shown.
Cambridge Glass Rosalie Etched Goblet
---
Rose Point Etch
Cambridge Glass made Rose Point
from 1936 to 1953 mostly on crystal. Colored pieces are rare. You can find beautiful gold encrusted
Rose Point
where the etch is picked out in gold. Gold encrusted Rose Point on crystal is spectacular! Cambridge knew they had a winner with Rose Point and used it on almost every blank they had at the time. The most common stemware line is number 3121 which is the goblet shown. Dinnerware and accessories used at least three different blanks plus there were other shapes that had only a couple pieces. The gold encrusted bowl is the Martha line. We specialize in
Rose Point
.
Cambridge Rose Point Etched Line 3121 Goblet
Rose Point Gold Encrusted Martha Bowl
---
Roselyn Etch
Cambridge Glass made Roselyn
near the end of their business, from 1951 to 1956 only in crystal. It looks a little like Elaine with the strong diagonal lines and flowers. Roselyn is far less well known than Elaine.
Cambridge Glass Roselyn Etched Crystal Footed Ruffled Bowl
---
Cambridge Square
Cambridge Square
is one of their most unusual patterns. The pieces all have heavy cube bases that look great. Cambridge made Square in crystal only beginning in 1951.
Cambridge Glass Square Crystal Low Comport
---
Cambridge Wildflower
Cambridge made Wildflower in the 1940s to early 1950s mainly in crystal or crystal with gold. You may find pieces in amber, green or ebony black too although these are less common.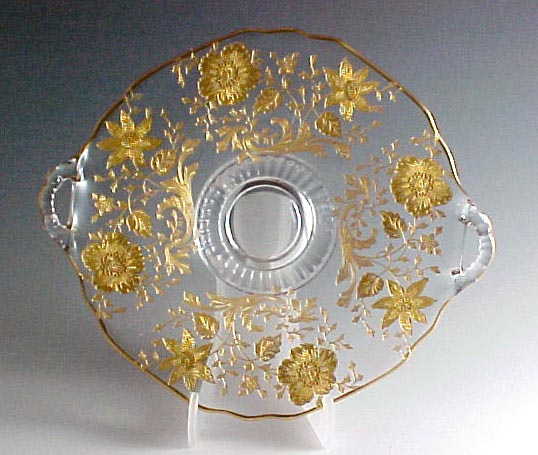 Cambridge Glass Wildflower Gold Encrusted Martha 2-Handled Tray
---
Cambridge Etch Number 704, Windows Border
Cambridge named this pattern only line 704 and noted author Gene Florence called it Windows Border, a far better name. You can find this in amber, green, pink and possibly other colors.
Cambridge Glass Windows Border Etch 704 Amber Cheese and Cracker Set
---
---
Line 3400 Heatherbloom Color
Cambridge Glass used Line 3400 for many etches and produced a wonderful rainbow of colors. One of the most interesting is Heatherbloom which changes color from a blue lavender to nearly pink. This color change is due to neodynium in the glass formula. Anytime you can find Heatherbloom you'll find it intriguing and unusual.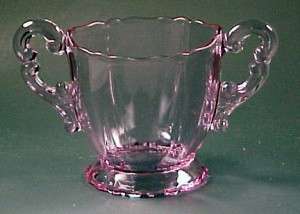 Cambridge Heatherbloom Color Line 3400 Sugar
---