Here's another in our series on border designs from Cambridge Glass, looking at the beautiful Majestic etch, number 732.  Unfortunately I've had only one piece of this etched pattern in stock, the green center handled server, but we have good pictures of the design so you can see the motif.
The scrolls are similar to the Windows Border, etch 704 we showed last post.  But you would never mistake the two patterns with the big oval flower medallion flanked with tassels that Majestic has in between each pair of scrolls.  It gives a regal appearance, perhaps the reason for the name "Majestic".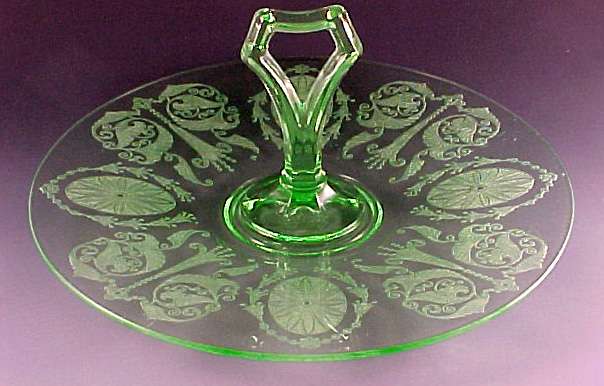 I've only seen this one piece in person although this isn't extremely rare, at least not for decorative pieces in the pattern.  You can find it if you search, especially online.  I got my server at a flea market and sold it on eBay.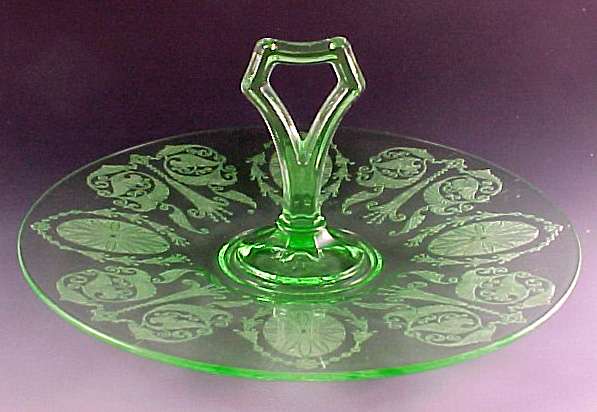 I looked on eBay to write this post and found 13 pieces, mostly accessories like candle holders or comports, although there were a stemware and two dinnerware listings. There were some fascinating pieces like an ebony center console bowl and an ebony footed crystal vase.  Personally I like the green the best.
Replacements shows only a couple pieces, including interesting topaz book ends but are out of stock in most colors.
From what I can tell, Cambridge put the Majestic etch on their usual depression-era colors, pink, green, crystal, topaz, amber and most likely blue although I've not seen it.  The Cambridge 1930-1934 catalog compilation from published by the Cambridge collectors group shows Majestic used on stemware 3130 and the Round dinnerware.  From the catalogs we can surmise Cambridge produced Majestic at least a few years from the late 1920s to early 1930s.
I was surprised that the Cambridge catalog pictures emphasized the scrolls in the etched design, not the fancy flower medallion. They showed the flower medallion in the design only when showing pieces like plates or bowls.  The catalogs used the name "Majestic" too so we know this is the true company pattern name, not a nickname.
A side note to those who visit frequently or subscribe.  I am cutting back to 1-2 posts a week on this blog at least until I get it organized better.  Right now searching works but the categories and menus are not well structured and it will take me quite a bit of time to fix those problems.  As always, if you have suggestions for posts or series, please let me know.