Last post we saw a piece of US Swirl from US Glass, a rather heavy pattern with a strong spiral motif.  Today we have Spiral from Hocking which can be confusing!
Maybe you can help with the confusion here. The sherbet above is Spiral from Hocking and you can see the spirals originate from the center and go clockwise, to the right.  Per my Gene Florence book, Collector's Encyclopedia of Depression Glass, 19th Edition
, Hocking Spirals go to the right.  Twisted Optic from Imperial has spirals to the left.
It depends how you look at the piece. This is the same sherbet and see how the spirals clearly go to the left?  Try to imagine what it would look like if you tilted it.  (My head hurts when I do this.)  When you look down from the top it swirls to the right, clockwise.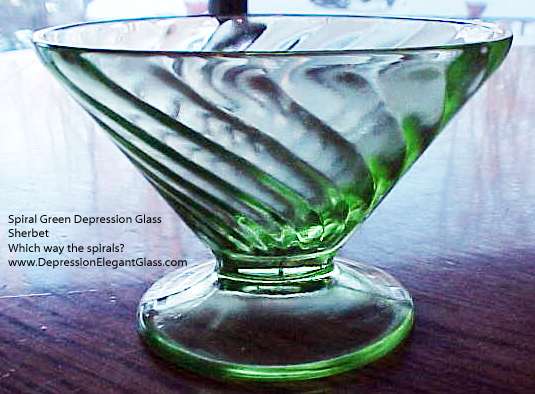 Hocking made two pitchers and we were lucky enough to get both.  Unfortunately this was long before I learned to take decent photos!  This first one is more common, straight edged around the top 3 inches or so, rounded below.
Detail of that neat rope edge.
Here's the more bulbous pitcher. The two look very different when you see them side by side.
This style has a rope rim too.
Plates are easy to spot. Yes, the spirals go clockwise (even I can tell that) but the biggest difference compared to Twisted Optic is the shape.  The Imperial plates have a small foot while Hocking Spiral is flat.
Hocking made a luncheon set in green Spiral plus a few accessory pieces like a vase, candy dish and a preserve dish.  The preserve dish is the same piece as the candy dish except it has notch in the lid.  Both pieces look much like the Cameo candy dish, similar shape and size, different finial and motif.  This is the Spiral preserve dish on Replacements.com.
Hocking made two styles of Spiral cream and sugar, a flat squarish shape and this footed style with a scroll handle.  This sugar bowl is similar to Cameo.
We used to find Spiral sherbets all the time but I've not seem them lately.  According to Florence, a lot of dealers carry the pattern but may not display it at glass shows.  That's too bad as Spiral is lovely.  The shapes are pleasing, green is great and the spiral design is most attractive, so simple and fresh.